Why Freediving is the best way to explore the Ningaloo
There are many reasons why I consider the Ningaloo Reef to be one of the best, if not the best, reef system in the world. First and foremost is its incredible diversity and abundance of marine life. On a typical day exploring we can find turtles, reef sharks, dolphins, stingrays, manta rays and seasonal visitors such as whale sharks and humpback whales; this can all be seen before lunchtime if you know where to look. But what makes the Ningaloo special is its accessibility to such amazing creatures. Here on the Ningaloo, we're within touching distance of the coral from the beach (please don't touch the coral!), and a 10 min boat/kayak to find the marine life movies and dreams are made of.
Some people are happy to spectate the wonders of the reef from the safety of shore or the comfort of a boat, but to quote the great and late Jacques Cousteau 'The best way to observe a fish, is to become a fish.'
Freediving allows you to explore the reef as nature intended, just like the turtles and dolphins. One breath at a time. Since Freedivers don't need cumbersome equipment, it's much easier and cheaper to get started. Your body is your equipment, your lungs, you mind. Learning safe breath holding practices and the ability to move and equalize seamlessly allow freedivers to explore the underwater world on just one breath.
The inner reef of the Ningaloo is a protected lagoon where coral bombies create a marine metropolis of swim-throughs and overhangs. These protected waters are between 4-12m deep, well within the comfortable depth of a trained Freediver. Scuba diving is another great way to explore the reef, however scuba diving requires a lot more equipment, training, and planning. A confident freediver can move faster, explore further, and see more of the reef and the animals which call it home. Freediving has led to the most authentic and humbling marine interactions I've ever had. Breath hold diving removes the noise and bubbles of scuba; this has a huge impact on marine animal behavior as they see you as a part of the underwater world, not apart from it. Watching wildlife in their natural habitat is best accomplished and enjoyed naturally.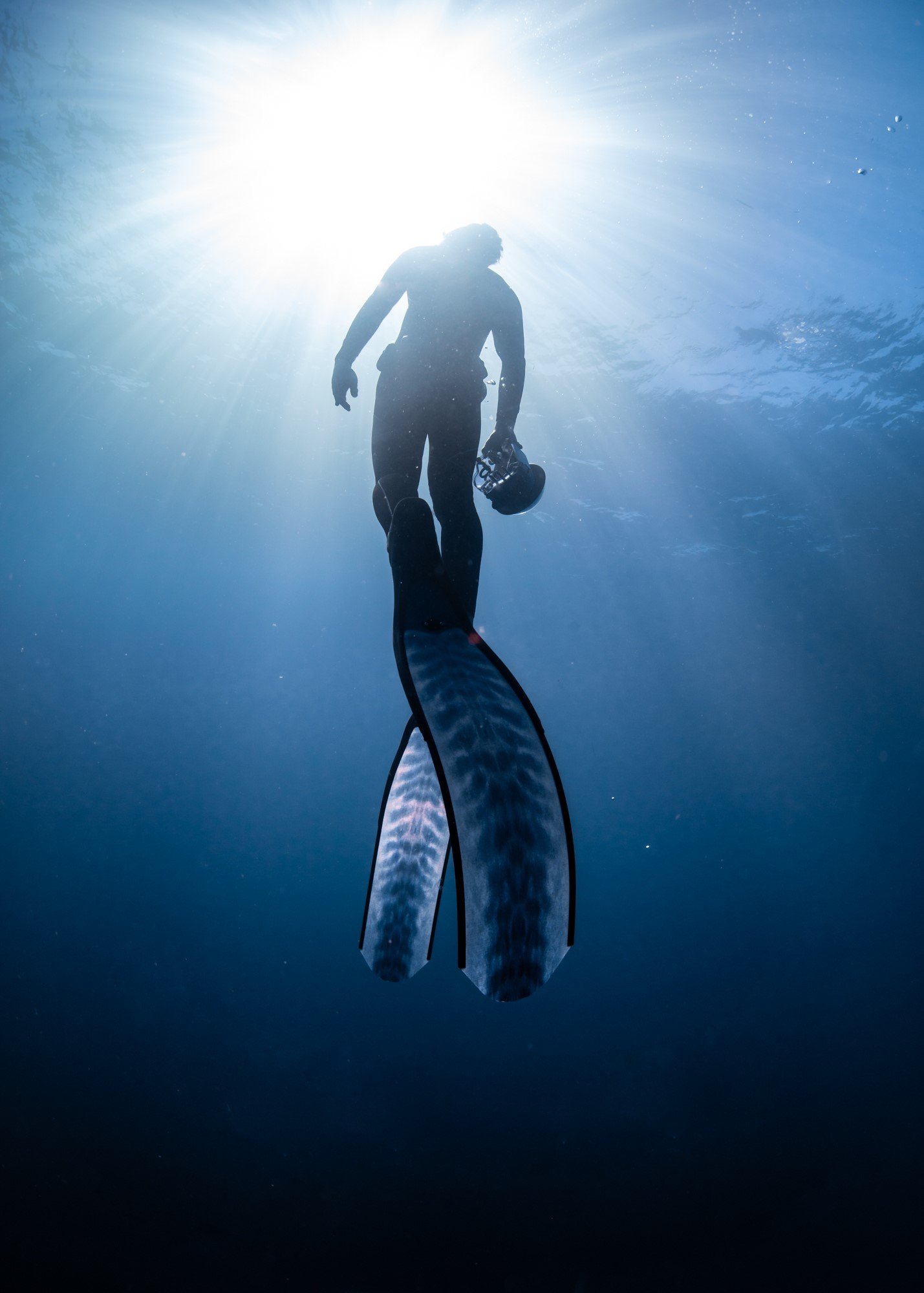 Learning to freedive is like learning any new skill. Start with the basics and progress deeper or increase your breath hold as you gain greater understanding and confidence. Safety is paramount in the water, therefore it's important to receive proper instruction and learn to apply safe diving practices for both your own safety and your dive buddies. Learning to control your breathing begins with controlling your mind, and you may find that breath control through freediving can be beneficial both in, and out of the water.
There's no greater time to learn how to Freedive than right now. Becoming safer and more comfortable in the water are skills you won't forget and can lead to a lifetime of underwater adventures. We're at a critical point as the climate changes, and our oceans may not be the same in years to come. The best way to help protect our oceans is to better enjoy and understand our role among them. 'People protect what they love' – Jacques Cousteau.
Qantas have announced the introduction of direct flights between Melbourne and Exmouth's Learmonth Airport. Flights are due to commence in...